Another common beginner question is: "That doesn't look like water in your airlock, what is it?"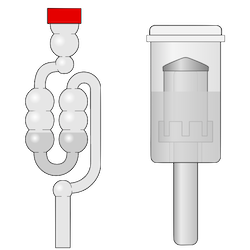 picture credit: adapted from https://publicdomainvectors.org/en/free-clipart/image/18411.html
This is because most people start off putting water in their airlocks.  That's a perfectly reasonable choice — but not the only one.  Even with this approach, there's the question of what kind of water.  So, the main choices of airlock liquid are:
The same water you made your must with.  Probably easily available and cheap.  But, it probably won't do much to prevent bacteria, mold, or even some kinds of insects from getting through.  In fact, if you used spring water, well water, mineral water, or any other water with much micronutrients in it, it will probably help microbes grow.

Tap water.  You probably didn't use this to make your mead, as it is generally advised against.  (Maybe I'll cover that in a later post.)  The chlorine in it (in most cities of most advanced countries, anyway) should help with the microbes . . . but by the same token, if it gets into your must, it could somewhat inhibit the yeast from working.  (How would it get into your must, you ask?  Long story short, if the ambient air pressure rises enough, a three-piece airlock would pull some in.  This is one advantage of an S-type airlock.)

Sanitizer fluid.  While things such as Star-San are supposed to be odorless, colorless, tasteless, and perfectly harmless to humans, I just don't like the idea of it possibly winding up in my mead.  Plus, it would inhibit the yeast more than tap water.  Many of them work by being too acidic for microbes, so it would further lower (acidify) the pH of your must.

Vodka (or other strong spirits).  Now we're talking!  Anti-microbial, hostile to insects too, and if it gets into your must, it's just water and alcohol, which are there already.  Just be careful when using spirits with any distinctive flavor.
So what I suggest is the cheapest vodka you can find, from a reputable source (not Uncle Bubba's 'shine still!), in reasonable volume — for whatever definition of "reasonable volume" fits your needs and budget.  If you're just starting out, and not sure you want to continue making mead, maybe a half-pint hip-flask; once you're doing a new five-gallon batch every week, it might be a gallon.